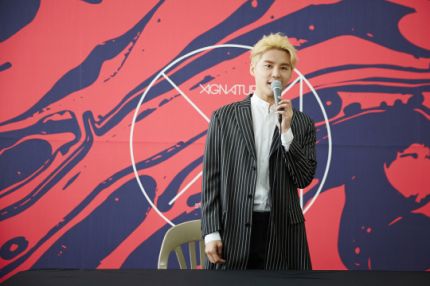 Phản hồi bài viết: [+458]
=
1. [+4273, -115] Bất cứ ai cũng có thể thấy rõ ràng rằng 2 ứng cử viên nặng ký nhất cho trận chung kết là Cjamm và Bewhy
2. [+3255, -108] Xia Junsu đang fanboy vì một rapper kìa ㅋㅋㅋ Chẳng phải The Quiett cũng xuất hiện trong concert của anh ấy sao?
3. [+2567, -94] Điều mà tui hóng nhất là giữa Cjamm với Bewhy ai sẽ giành chiến thắng ㅌㅋㅋㅋㅋㅋㅋㅋㅋㅋㅋㅋㅋㅋㅋㅋㅋㅋㅋ
4. [+2328, -87] Có vẻ như Bewhy tham gia SMTM chỉ để giỡn chơi thôi hay sao ấy ㅌㅋㅋㅋㅋㅋㅋㅋㅋㅋㅋㅋㅋㅋㅋㅋㅋㅋㅋ
5. [+1229, -62] MC Xia làm ơn hôm nay hãy cho tụi em nghe chút rap đi mà!!! ㅎㅎ
6. [+303, -11] Xia Junsu dường như thích mấy rapper ghê lắm ㅋㅋ The Quiett, Bewhy, Paloalto, Dok2, Tablo, Flowsik,... Tất cả những người này đều đã góp giọng trong album của ảnh hết rồi
7. [+247, -14] Nhờ Kim Junsu mà mọi rapper của SMTM đều được quảng bá nhiều hơn ㅋㅋ Nhờ có anh ý nên em mới biết đến Bewhy và bắt đầu xem SMTM, em chẳng biết cái khỉ gì về hip hop cả cơ mà em có thể nói rằng anh ý rất giỏi, chỉ cần nhìn ảnh thôi là đã thấy tuyệt rồi!
8. [+197, -7] Kim Junsu bắt đầu mời rapper tham gia vào album của mình từ mấy thế kỉ trước rồi. Suốt từ đó đến nay tôi cũng càng ngày càng thích họ
9. [+157, -6] Làm ơn đừng nghĩ rằng Xia Junsu đang đánh giá SMTM, cậu ấy đã là fan của Bewhy từ lâu lắm rồi thế nên đừng có mà hiểu lầm ~
Credit: Pannchoa